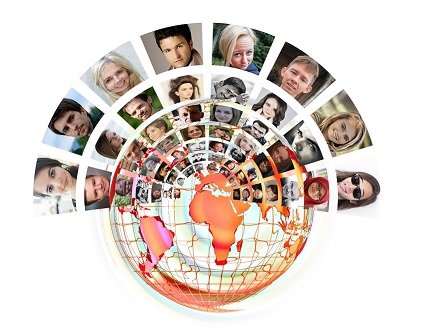 Goede morgen,
een van de grote mythes uit de Industriele Revolutie is dat je organisatie moet groeien tot een logge grote organisatie met veel lagen als je meer klanten aantrekt.
In onze huidige tijd van Internet, snelle bandbreedte en smartphones is dat eigenlijk al lang niet meer het geval.
Je kunt online en offline groeien en schalen met behulp van ICT met de virtuele organisatie als organisatieontwerp.
Wat dat is? Hier volgt mijn definitie.
Een virtuele organisatie is een organisatievorm die gekenmerkt wordt door de afwezigheid van een gedeelde fysieke ruimte. De organisatieleden werken samen door middel van telecommunicatie. Met name als gevolg van de opkomst van het internet nam de realiseerbaarheid van, virtuele organisatievormen sterk toe.
Formele en informele virtuele organisaties.
Wat hierbij aangetekend moet worden is dat het om een formele of een informele virtuele organisaties kan gaan. Denk maar eens aan informele virtuele organisaties als groepen op LinkedIn, op Facebook of op andere sociale media platforms.
Voorbeelden van virtuele organisaties in ' Groeien zonder te groeien'.
Een aantal succesvolle ondernemers uit 'Groeien zonder te groeien' hebben hun eigen versie van de virtuele organisatie ingericht. Vaak gaat het om versies van 'de virtuele eenmanszaak' of om organisaties met een klein (virtueel) kernteam met een of meer flexibele schillen daar om heen.
Tony de Bree
p.s.
Laten we contact maken op LinkedIn en volg me op Instagram en op Twitter in het Nederlands: @2urigewerkdag, @wordpresszzpers en @dagboekbankier.